A3dsViewer 1.7 version was been released by AptaGraphis.
Download the latest version: A3dsViewer.exe.

If you have any questions or suggestions, please do not hesitate and contact Tomas Rapkauskas by e-mail This email address is being protected from spambots. You need JavaScript enabled to view it..
3ds models publish sample on Google Drive: https://googledrive.com/host/0BzMh0odXw7JsbFBpY2h2RWNiVVk/.
Contains:
3ds file Export/Conversion to HTML5 (webgl, three.js) format settings dialog.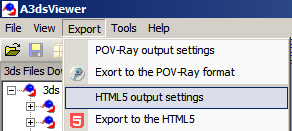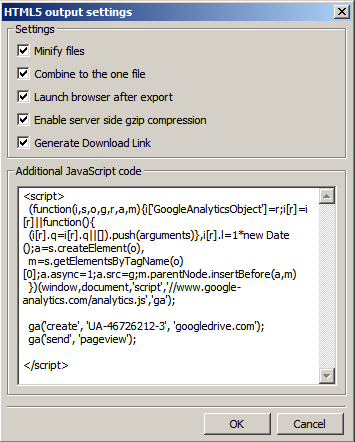 Minify files - minimize java script and and HTML files size.
Combine to the one file - do output only one HTML file, java script code will be inlined. 

IE --dies around 35 megs
Firefox --dies around 60 megs
Safari --dies around 60 megs
Chrome --dies around 50 megs
       If you generate large HTML files uncheck this check box.
Launch browser after export - do launch the default system browser after file export is finished.
If you do not have http server and textures are not visible in the browser please check this howto.
Do check out HTML5 export samples: